the real secret to
WOMEN'S HEALTH
One, small drink a day to Slow the Aging Process
What if we told you that the the secret to living a longer, happier, healthier life was as simple as taking a small drink every day. Would you believe us? Well, we're here to tell you that it is absolutely true. We're going to show you how you can reach the peak of feminine health with a simple formula that will not only change your health but vastly improve the quality of your life.

Why should you be drinking your vitamins?
The Truth About Your Health
Hint: You Aren't Getting Enough Nutrients
Eat your veggies! You've been hearing it since you were small. Most of us know that we need to eat more fruits and vegetables to maintain optimal health. The difficult part is making that happen.
The problem is that most of the time, women are not getting what they need from their food alone. And their health suffers for it...big time. This leads to...
... All Sorts of Health Problems
These include weak bones and joints, weight gain, hormone deficiencies, lack of energy, immune disorders, heart disease and a host of other women's health issues.
Often women go searching for answers in the wrong places, down a rabbit hole that can lead to a reliance on pharmaceutical drugs that treat the symptoms but not the real cause of their health problems. They stay stuck, spending a bunch of money but only seeing temporary results. All the while the REAL solution is right in front of them.
Proper nutrition is the answer.
But how can women get proper nutrition? Most women know they need to take in more nutrients and they even go as far as to take a multivitamin.
The problem is most of these vitamins provide the nutrients they need either.
One reason is they are taking their vitamins in pill form which are tough to swallow, inconvenient or lacking in trace elements for comprehensive nutrition.
Most importantly, pills lose a large portion of their nutritional value during digestion.
They also don't take the unique qualities of the female body into account...
But Here's the Deal!
Women have sophisticated bodies and unique nutritional needs, especially as they begin to age.
As women get older, they have to be really careful about what they put into their bodies. But that is easier said than done. Sometimes they get started on the latest fad diet or exercise routine to quickly abandon it after not getting the results they want. Other times, they might go to see a doctor to find a quick fix for their particular health issue.
The truth is that most of the time, there isn't a need for a fad diet or a doctor when there is a simple solution specifically designed with women in mind....
Introducing: Women's Liquid Multivitamin
Women's Liquid Multivitamin is an ultra-enhanced, liquid multivitamin specifically formulated for women to slow aging, increase energy, bolster weight loss, strengthen bones, and improve overall health.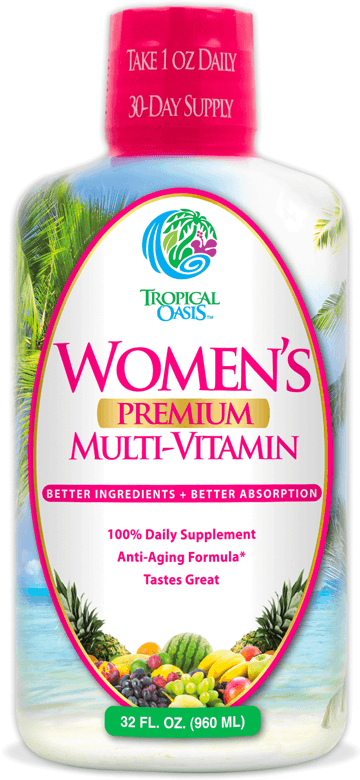 Over 100 premium ingredients
Women's Liquid Multivitamin was formulated with the finest ingredients containing vitamins, minerals and amino acids to help women reach and maintain their optimal level of health.
Herbs and Superfoods
Women's Liquid Multi is packed with the finest herbs and superfoods that specifically benefit women including pau d' arco, alfalfa, dong quai and juniper.
Includes Biotin
Replete with a high dose of premium biotin, Women's Liquid Multi helps maintain healthy hair, skin and nails keeping women looking and feeling their best.
Key Minerals for Women
Essential to maximize a woman's health, Women's Liquid Multi is packed with powerful minerals specific to a women's needs including boron, magnesium, iron and folate.
Maximum Absorption
With it's powerful liquid form, Women's Liquid Multivitamin provides maximum absorption into the body allowing total nutrition for women to reach their optimal health and well being.
Amazing Taste
Nutritional beverages often overlook the importance of taste. We took our time to develop a blend for Women's Liquid Multivitamin that was not only healthy but that tastes amazing as well.
Specially Formulated
Women's Liquid Multivitamin is a proprietary blend designed to provide all the key ingredients to help women live healthier lives. With over 110 premium ingredients that include trace minerals, vitamins, amino acids and herbs, Women's Liquid Multivitamin is THE comprehensive women's solution to ensure vitality and positive overall health for a fulfilling life.
Anti-Aging
Women's Liquid Multi can help slow the aging process with healthy amounts of amino acids, vitamin E, trace minerals and powerful herbs specifically targeted to the needs of women.
Bone Strength
Women's Liquid Multi specifically addresses women's nutritional needs for bones and joints with ample amounts of key ingredients such as Vitamin D3 and Boron.
Immune Health
Packed with immune boosters and antioxidants including juniper berries, vitamins E, C and A, and minerals folate, iron and zinc, Women's Liquid Multi helps the body maintain proper immune function.
Skin & Hair Health
Women's Liquid Multi is packed with vitamins and minerals like vitamin E and biotin that keep hair healthy, skin more vibrant and nails stronger for women to look and feel their best.
Hormone Support
Women's Liquid Multi helps women maintain normal hormone levels with healthy doses of premium magnesium, vitamin D, boron and Omega 3 fatty acids.
Increased Energy
By providing key nutrients that help maximize energy such as iron, B12 and Biotin, Women's Liquid Multi is essential for women who are always on the go.
Mental & Mood Health
Rich in ingredients that boost mood and are essential for brain health, Women's Liquid Multi helps with mental focus, acuity and mind balance.
Natural Weight Loss
Women's Liquid Multi provides the proper amount of nutrients to facilitate natural weight loss, control cravings and increase metabolism.
Life Changing Features
Women's Liquid Multivitamin contains a powerful feature set that allows men to reach their highest health potential and slow the aging process.
Liquid Absorption
Women's Liquid Multi comes in liquid form to ensure maximum absorption by the body so the premium elements in our formula can have the maximum positive impact on a woman's health.
Comprehensive Men's Health
Women's Liquid Multivitamin was specifically formulated to offer a total, concentrated women's nutritional solution. Our comprehensive formula offers dynamic ingredients that bolster a woman's overall health and well being.
Amazing Taste
We know that one of the things that can quickly turn a woman off from taking liquid vitamins is poor taste. We spent time finding the perfects balance of flavors to make drinking Women's Liquid Multivitamin a treat.
Easy on the Body
Many vitamins and supplements can have harsh or undesirable effects on the stomach and the rest of the body. Women can be even more susceptible to upset stomach than men. Women's Liquid Multi was designed with women's needs in mind to provide powerful but gentle results.
The Power of Liquid Absorption
Ditch the Pills and Pick Up the Liquid!
Pills are no fun.
They are bulky, tough to swallow and an overall inconvenience. The result is that women have a hard time sticking to taking pills. Even when they do take them, they aren't as effective as they could be because most of the nutrients in pills are never absorbed by the body. The good news is that there is a much more efficient and effective way to absorb your nutrients.
That solution is liquid. Liquid vitamins are far superior for absorption into the body when compared with pills.In fact, 96% of liquid nutrients are absorbed into the body as opposed to only 18% percent with pills. For women, it is absolutely crucial to their overall health that they maximize their nutrient intake. This is where Women's Multivitamin sets itself apart.
Women's Liquid Multi was specifically formulated for superior absorption into the body to ensure women are maximizing the nutritional intake necessary to achieve optimal health.
Benefits You Can Feel
Anti-Aging
As we age, our bodies are bombarded with free radicals that wreak havoc on our organs and cells resulting in wrinkled skin, aching bones, weight gain, decreased energy, and failing mental faculties. Women can be especially susceptible to some of the adverse effects of aging. But it doesn't have to be this way. The key for women to live longer and healthier lives and slow the aging process is to maintain proper nutritional balance. Today's food, however, unfortunately doesn't give us the proper nutrition to properly combat the aging process. That's why it is important for women to fight free radicals with the proper nutritional tool. That tool is Women's Liquid Multivitamin.
OUR SOLUTION: Women's Liquid Multi contains crucial ingredients to slow the aging process in women including an abundance of premium vitamins A, C, D, D3, B12 as well as selenium, herbs and antioxidants to combat free radicals.
Healthy Bones & Joints
As they age, women are particularly prone to loss of bone and joint strength. Without the proper nutrients, bones become more brittle leading to a number of health problems including osteoporosis, arthritis, aching joints and even bone breaks. That's why getting the proper amount of nutrition is absolutely crucial for women to maintain vital bone density and to slow the bone aging process. The problem is that women have a hard time getting the proper nutrition to adequately most of the food that This is where Women's Liquid Multi can be of huge benefit.
SOLUTION: Women's Liquid Multi was specifically formulated to help address the unique needs of women and this includes a focus on bone and joint health. With essential bone and joint ingredients like vitamin D, magnesium as well as premium boron, one of the key minerals for strengthening bones and joints and reversing the effects of osteoporosis.
Vibrant Skin, Hair, and Nails
One of the main aspects of aging gracefully and maintaining a healthy, youthful appearance is proper nutrition. After all, what happens on the outside of the body is a direct reflection of what is put into the body. Quite often, women spend money on fixes to the outside of the body overlooking their overall health and nutrition. However, the real solution for lustrous hair, vibrant skin and stronger nails is simply a matter of getting enough of the right kinds of nutrients. Women's Liquid Multi provides a powerful solution to have women feeling and looking their best.
OUR SOLUTION: Since Women's Liquid Multi was designed specifically with women's needs in mind, our formula offers a wide range of nutrients to help maintain vibrant hair, skin and nails such as vitamin E, boron, and biotin.
Increased Energy
With today's busy lifestyle and the demands of work and family, it is no wonder that many women can feel run down and sluggish on a day to day basis Life moves fast and when you add aging to the mix, it can seem downright impossible for most women to have enough energy to get everything they want accomplished. The solution, of course, is found in getting the proper amount of nutrients. This is precisely where Women's Liquid Multi can help with a unique formula specifically made to address the needs of women.
OUR SOLUTION: With optimum amounts of iron, vitamin B12, biotin, and vitamin D as well as immune boosting antioxidants and herbs, Women's Liquid Multi provides all the proper nutrition to help women boost and maintain their energy levels so they can live their lives to the fullest each and every day.
Natural Weight Loss
Many women know that maintaining a healthy body weight is essential to their overall health as being overweight can lead to multiple health issues such as diabetes, cardiovascular disease, breast and colon cancer, gallbladder disease and high blood pressure. Of course, keeping a healthy body weight can seem like a constant struggle for many women especially as they age and metabolism begins to slow. But what a lot of those women don't realize is that maintaining a healthy weight is directly linked to nutrition and they simply aren't getting what they need from their food to keep their weight at optimal levels. This is where Women's Liquid Multi comes to the rescue.
OUR SOLUTION: Women's Liquid Multi provides a powerful solution to help women lose weight naturally and easily with essential nutrients that are specific to women to help increase metabolism, provide energy for motivation, balance blood sugar and end cravings. With maximum quantities of vitamin D, vitamin B12, omega 3s, and essential antioxidants a daily shot of Women's Multi is an excellent and natural way for women to stay slim and feel their best.
Three Simple Steps to a Healthier Life
1
A Daily ounce of
Women's Liquid Multi
Women's Liquid Multi has all the nutrients you need to regain your vitality, health and zest for life in a simple, easy to drink shot.
2
Stick to the
plan
To get the maximum benefits from Women's Liquid Multi that will change your life requires a commitment to take it daily.
3
Feel Your Best
and Enjoy Life
By taking Women's Liquid Multi daily, you will begin to see enormous changes in your health and overall well being.
So, now that you see how simple it is, are you ready to take control of your health?
Improving your health doesn't have to be difficult. In fact, it couldn't be easier. The opportunity to take control of your health starts today. Are you ready to enjoy a new lease on life with improved energy, mental focus, sexual vitality, smoother joints, and a stronger healthier heart? Not to mention profound weight and anti aging benefits!
Women from all over the world who are in on this simple, daily routine are reaping the benefits feeling happier, lighter and more fulfilled. It's your chance to join them!
The Ultimate Solution for a Healthy Life
Women's Liquid Multi is the ultimate solution to maximize your health and get you feeling your best. As you've seen Women's Liquid Multi is a comprehensive, total health solution designed specifically with your needs as a woman in mind. Each ingredient was selected to address all of your health needs to ensure you receive the proper nutrition to help you live your best life.
With Women's Liquid Multivitamins' proprietary solution you will find yourself making fewer doctor visits, along with a newfound sense of motivation that results in spending more time with the people you love doing the things you enjoy.
Real, Powerful Results
What they are saying about WOMEN'S LIQUID MULTI
"I am not a fan of the pills so this liquid form is perfect for me and has everything that my body needs. I can even tell the difference when I stop taking this. I feel so much better when consuming this multivitamin. I am on my third bottle!"
"Really enjoy this product. It tastes great and is high quality. I haven't found a liquid supplement I've liked as much. Will definitely purchase again!"
"Liquid vitamins are the way to go! Better absorption than tablets and so easy. I always feel better during the day when I've used it and I can definitely tell when I forget."
Get The Ultimate Women's Health Solution
Order today and begin the road to optimal health.
So with all these benefits in mind, for a limited time, we are offering:
A full sized 32-ounce serving bottle of Women's Mega Liquid Multivitamin for the price of only 29.95!
Specifically formulated for women, Women's Multivitamin is a complete 30-day health solution with over 50+ whole food nutrients. That's right!
For only $1 a day you can completely revitalize your mind and body to live a life of supreme health and vitality. Your health is priceless, so at this great price how can you afford not to live a healthier life, providing piece of mind for you and your family. Even better, we are offering this amazing deal with FREE SHIPPING and a 30-DAY MONEY BACK GUARANTEE! If you are not happy you get your money back. No questions asked. This is a once in a lifetime no rise opportunity to take control of your health at the very best price, if you act today!